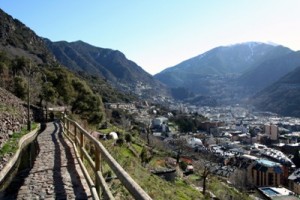 Andorra La Vella is the capital of this tiny principality nestling between France and Spain and is its biggest town. Lying at the confluence of the Gran Valira, the Valira del Oriente and the Valira del Norte rivers, Andorra La Vella is dwarfed by stunning snow-capped mountains of up to 2500 metres high.
The town has now grown to absorb the once independent villages of Escaldes, Engordany and Santa Coloma.
The Barri Antic (old town) was the original heart of the town when it was little more than a village. It stretches from the Esglesia de Sant Esteve to Placeta del Puial and is characterized by atmospheric cobblestoned streets and arresting stone houses. Visit the Casa de la Vall (House of the Valley) where the Andorran parliament has met since 1702. Originally built as a family home in 1580, it has to be one of the most comfortable parliament chambers in the world! The town's Esglesia de Sant Esteve dates from the 11th century. Check out the church's Romanesque apse and the paintings dating from the 13th century. Stroll in the Placa del Poble – the large public square atop the Edifici Administratiu Govern d'Andorra. It's a great place for people watching of an evening and is home to the town's theatre and concert venue.
For dinner, head for the Placa de Guillemo or the Barri Antic. Shop till you drop at the duty-free shops on Avinguda del Princep Benlloch and the Avinguda de Meritxell. For a spot of heavenly relaxation head for the Caldea spa complex where you can enjoy a Turkish bath, a sauna, a jacuzzi or even a hydromassage.